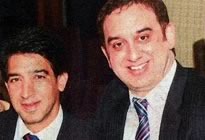 Plan turns healthy profit – Pals' locum service set up to give cash back to good causes (Article published in local newspapers on 15th September 2012)Two old college friends have reinvented the way with locum doctor agencies work with the aim of generating cash for health project in East Lancashire. Faisal Janjua, 40, originally from Great Harwood, managing director of a pharmaceutical company in Birmingham, met lawyer Sarfraz Khan, also 40, when they were both students at Accrington and Rossendale College.
Faisal said: "We were both brought up in East Lancashire and we know there are difficult times. "We said 'let's make money and pump it back into the community'. "Being in the pharmaceutical industry, I was aware that hundreds of millions are spent on locum agencies every year as a result of controls on working hours and work permit regulations, so we sat down to figure out how we could do something similar, but run differently."Two months ago we set up CliniCall. We've both pumped a lot of money into it, and have recruited doctors to work."We charge a competitive rate for our service, but Sarfraz and I don't take salaries, and every penny profit we make goes to good causes.
"This month, CliniCall has generated GBP 500 in profit, which is being split evenly between the Royal Blackburn Hospital towards oxygen saturation monitors for the coronary care unit,, and to Roe Lee Surgery Blackburn, for telemetry equipment.Faisal said: "A number of doctors in the local area were skeptical at the beginning, but now they're amazed at how well it's going and they've said that they're proud of us. "We don't profess that it's a lot of money, but every month we hope we can give out a similar amount.
"Now we're in discussions with the Department of Health about what we have done, and how it can be rolled out further."Both men are no strangers to charity work. Faisal has funded the building of wells in Asia, and Sarfraz, of Accrington is a magistrate.